If you haven't already, Sherlock is a series to watch…and if you have seen it just watch it again. It's that good!
Based around the famous detective Sherlock Holmes and his companion Dr.Watson, Sherlock is a modern twist on the Sir Arthur Conan Doyle original characters and stories.
Located in modern day London we follow the cases , adventures and personal problems these characters undertake in their day to day lifes. Through the excellent casting of english actors Benedict Cumberbatch and Martin Freeman as the famous duo, the excellent acting has earned Cumberbatch an Outstanding Lead Actor in a Miniseries or a Movie award and Freeman an Outstanding Supporting Actor in a Miniseries or a Movie award at the 66th Primetime Emmy Awards. Moreover the series has been nominated for many prestiges awards such as a BAFTA and Golden Globe in various different catergories.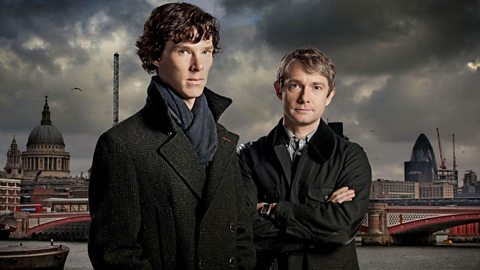 It is available on BBC Iplayer and Netflix. Do not hesitate, you will not regret it.